Description
Details
Vidonn X5 Smart Wristband Bracelet Reviews:
- Smart wristband with OLED screen
- Clearly displays health parameters including steps, calories, distance, time and sleep quality
- Supports Bluetooth V4.0
- IP67 Protection Grade: Wear it all day and night even while swimming, raining or washing your hands
- Easy to charge via USB port
- Built-in silent vibrate mode with a silent wake alarm that gently vibrates to wake you at the desired time without disturbing your partner
- Automatically syncs your data to other devices including PCs, Macs, iPhone 4S & 5, iPad 3, etc.
- It also can support Android OS !! Download the app from here
- Android OS support model: Samsung S3, S4, Note 2, Note 3.
- It supports Android 4.3 OS and Bluetooth 4.0 version device.
- Helps you to get better sleep by tracking your sleep time and waking time

How to use Vidonn X5 Smart Wristband?
[Instruction of Bracelet use]
1, Long press the key for 3 seconds, the bracelet will go into"sleeping"  or "temporary" mode. long press the key 3 seconds again to transfer back to normal mode. Normal mode Icon: Step number; Time; Calory; Alarm clock. Temporary mode Icon: Step number; Distance; Time; Calory;zzzzz sleeping quality.
2, Charge: Plug the bracelet host into PC or power bank USB port directly,charge time around 15 minutes; if you want to use charger, must use standard good quality charge at this spec : 5V --300mA.
3, LED light is 24 hours turn on default, double click the key to turn on or off the LED light;There are 3 modes on LED,based on amount of activity:
A. Low end activity(less than 60 steps per minute ),blue LED flicker;
B. Middle end activity(60~120 steps per minute ),green LED flicker
C. High end activity(more than 120 steps per minute ),red LED flicker;
4, reach the standard mode: Once the user's step exceed 10000 steps within one day,the bracelet will vibrate as a alert remind.
5, Clock mode: all kind of clock will remind by vibrating, can be canceled by press the key. Remark: if the APP(Vidonn) hang,that's because the internet is not so good, please exit APP, then connect phone with internet again, press key to open the bracelet host, and then open APP, the bracelet will connect and pair with device automatically.
Vidonn X5 Smart Wristband Bracelet Specs:

Brand & Model

Vidonn X5

Bluetooth Version

v4.0

Material

ABS plastic, TPU rubber and alloy

Display

0.49" OLED display

Battery

40mA li-polymer battery

Standby Time

4 days

Wireless Sync to Mobile

iPhone 4S/5, iPad 3, Retina, iPad mini, iPod touch, 5th generation.

USB Port

USB2.0

Operating Systems

Windows XP/Vista/7/8, Mac OS X 10.5 and up

Working Temperature

-20°C~+45°C

Storage Temperature

-40°C~+45°C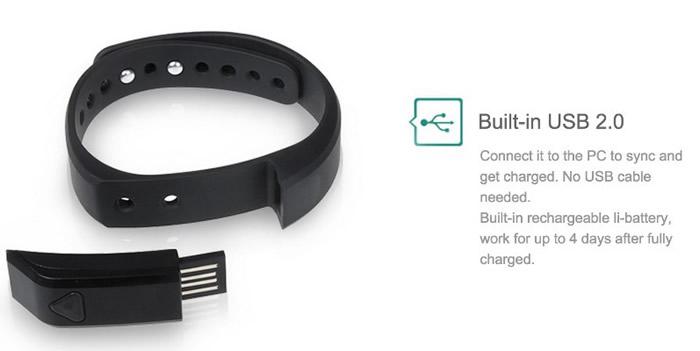 Reviews
Tags
Questions on Vidonn X5 IP67 Bluetooth 4.0 Smart Wristband Bracelet for iPhone Android phone Green
No questions asked yet
Ask Your Own Question
You may also be interested in the following product(s)